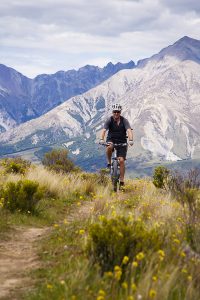 Skiing, mountain-biking, tramping / hiking, fishing, rock-climbing / bouldering, paragliding, Cave Stream.
Within the village itself, there are a tennis court, small ice-rink, basketball half-court, petanque court, water-slide, picnic tables, 9 hole rustic golf course, and a children's play area with swings.
Weddings are a regular occurrence at St Andrew's College's Alistair Sidey Mountain Lodge in Thomas Bush near the village, and also at Flock Hill Lodge; The Doug Log House is a great venue for wedding guests and honeymooners alike.
You can find more information on some of the tracks etc. in the Castle Hill Basin on the Tracks page, while ski-area/piste information can be found on the Ski Areas page.
The Castle Hill Community Association has been enthusiastic about supporting the development of the Craigieburn Trails; the village also has a new BMX "pump" track in the trees beside the tennis court/village hall, which is great for children.
Local skifields include Porters, Mt Cheeseman, Broken River, Craigieburn Valley & Mt Olympus, with Temple Basin further afield.